James O' Sullivan Fencing & Agri Services Provide a range of equine fencing solutions, horse wire, post & rail, flexible rail horse fence, xfence & v fence mesh, creosote rails & fence posts, timber gates, posts, stable doors and much more...

---
Flexible Rail Horse Fence:
A horse Friendly flexible rail fence designed with an understanding of horse behaviour and how they interact with fencing. Flexible rail will absorb and disperse impact along the rail or strand, significantly reducing the opportunity for injury. The rail can withstand weight of 1.8tonnes, it is easily re-tensioned if or when necessary, there is no painting required.
The flexible design ensures that if an animal pushes or rushes the fence, the fence will give just enough to prevent injury without compromising the perimerter. Bracket system allows fence rail to flex in the event of impact and cushion any impact without damaging the fence.
Flexible Rail Fence is available in black, brown or White.

---
Equine Timber Post & Rail Fence:
A very popular and attractive choice of equine fencing for many years in Ireland, Installed in 3, 4, and 5 rail with posts.
The top rail should be sufficiently high to prevent animals from jumping out and the lower rail should not be so low that a horse could get a foot trapped beneath.
The appearance of the fence should be the final consideration. An attractive and well maintained fence promotes pride in ownership, increases property value and gives an impression of professionalism.
Some maintenance is required to avoid splinters or damages wood causing injury to animals. The fence can be painted to desired finish. Creosoted post & rail fence is a frim favourite in the equine industry.



---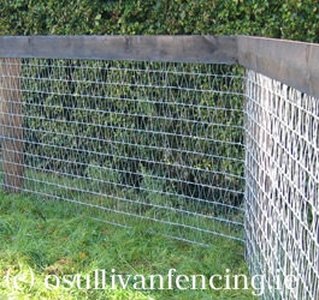 X Fence Horse Mesh :
Fastly becoming a popular choice on may stud afrms and as an alternative to chain link for poultry and dog runs.
SAFE: Narrow 50mm spacing between vertical wires virtually eliminates the chance of any entanglement in the fence. The smooth X-Knot ensures that X-FENCE has no sharp edges that cut or graze your animals.
STRONG: XFENCE horse mesh is manufactured with strong 2.5mm high Tensile Wire. The cold forged X-Knot ensures wires cannot be moved out of place by animals.
Versatile: Available in 3", 4", 5" & 6" Heights


---
---
Electric Horse Cable:
A strong safe and durable fence that is virtually maintenance free.
SAFETY: Electric Horse Cable was designed from the outset to be a safe fence for horses. Due to its high tensile steel core the fence reduces the chance of the fence "wrapping around" your horses should they impact it. Smooth Polymer coating protects the horses skin from abrasions or grazes.
STRONG: Electric Horse cables minimum breaking strength is 635kgs per wire.
ELECRTIFIED: Electric horse cable is conductive, making it also suitable for holding cattle and because the fence is electrified animals will not abuse the fence.




Electric horse cable is perfect as a stand alone fence with 1 or more strands of cable. Electric horse cable is also available in black making it ideal for electrifying existing post & rail fences.

---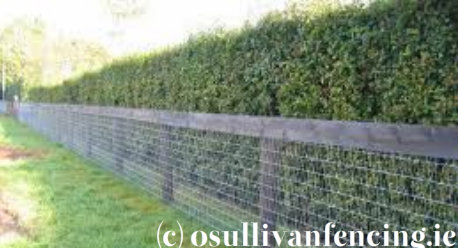 V-Mesh Fence:
A professional type of wire mesh fencing seen on the finest horse and stud farms.
SAFETY: Very Close 2"(50mm) vertical wire spacing and 4"(100mm) horizontal wire spacing with verticals woven in a "V" formation, ensures even the smallest of hoofs cant get entangled. Spring texture provides safety in the event of an animal colliding with the fence. Smooth texture without sharp edges to ensure no injury issues occur. V Mesh allows pastures to be stocked with any type of animal wit total peace of mind, while keeping unwanted wildlife/dogs out.

---
We Provide field gates , stable doors and many more custom made products . See our Timber Gates Section for further information.

Contact James O' Sullivan : 085 7390015 for a quotation today.


or via contact form below

Contact Us